Why use Paint Protection?
Today's automotive surfaces are more complex and more susceptible to damage than ever before. Paint is more prone to chipping, due to the more advanced aerodynamics and designs and the modern car is now much larger than its predecessor – whilst parking spaces are smaller.
Environmental elements, road surface deterioration and debris means your vehicle is under constant attack – PremiumShield Surface Protection Film helps keep your vehicle in that showroom condition by providing a virtually invisible barrier minimizing stone chips, protecting from minor abrasions, bug stains and ultimately protecting your investment whilst helping to maintain the resale value of your vehicle.
Protect Your Paint, Protect Your Investment
State-of-the-Art Chemistry with Remarkable Properties
By combining an industry first, patent pending, clear coat with a tried and true aliphatic polyurethane resin, PremiumShield® products are the ideal protective film for any surface. With non-wrap kits as well as those that 'wrap' your exposed edges, PremiumShield continues to be an industry leader in paint protection for your vehicle. PremiumShield has been tested worldwide with results that prove, time and time again, that our products are among the clearest, strongest paint protection films on the market. We are so confident, we give PremiumShield Elite a LIFETIME WARRANTY.
PremiumShield is by far one of the best products we've come across and the price point is fantastic! Call or stop by today to get a quote on your vehicle.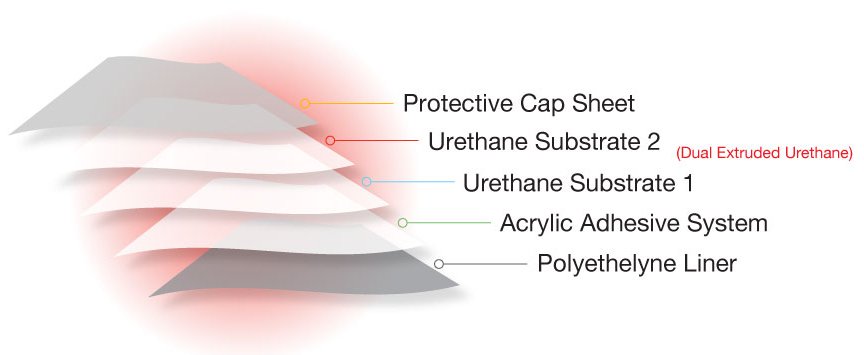 Much like the Elite film, standard PremiumShield protects the vehicle against rock chips and other road debris, but without the stain resistance capabilities. PremiumShield is the industry standard in paint protection film.
PremiumShield is a 6.4mil (0.16mm) dual extruded urethane film coated with a 1.6 mil (0.04mm) clear acrylic pressure sensitive adhesive system (PSA). The dual extrusion sees a stiffer urethane being combined with a more flexible urethane allowing for greater longevity whilst maintain flexibility during application.
The film is specifically designed for the surface protection of painted, gel coated or other vulnerable surfaces improving functionality and allowing the conservation of visual appearance for long periods.
Warranted against degradation from UV, peeling and cracking; PremiumShield applies easily and maintains its clarity, durability and superior performance over a wide range of environmental conditions providing improved chemical and mechanical resistance (like stone chip) whilst offering conformability to complex shapes and curves.
For more info about PremiumShield visit www.premiumshield.com